Posted in Alumni News on Jan. 21, 2014 by Kate Carlisle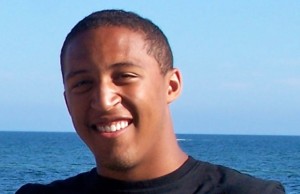 Guy Geyer Marcus '13 has won the Leroy Apker award for the American Physical Society, the highest prize offered in the United States for an undergraduate thesis in physics.
Marcus is the second Wesleyan student to win the prize in three years; Wade Hsu '10 also claimed the prestigious award. In 2008, Gim Seng Ng '08 was a finalist for the Apker.
"This achievement naturally highlights the quality and seriousness of our undergraduates and our undergraduate program," said Physics Department Chair Brian Stewart.
Marcus'  Wesleyan advisor was Greg Voth, associate professor of physics.
Marcus is working toward a Ph.D in theoretical physics at Johns Hopkins University. His prizewinning thesis was titled: "Rotational Dynamics of Anisotropic Particles in Turbulence: Measurements of Lagrangian Vorticity and the Effects of Alignment with the Velocity Gradient."
He also received a Goldwater Honorable Mention award and a Wickham Scholarship for his research in 2011.
Posted in Achievements on Dec. 6, 2013 by Natalie Robichaud '14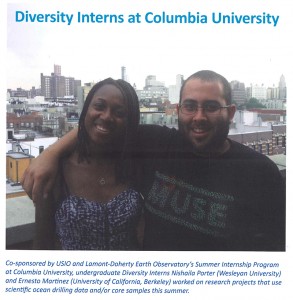 Over the summer, Nishaila Porter '15 worked on a research project as a 2013 Diversity Intern at Columbia University. The Integrated Ocean Drilling Program and the U.S. Implementing Organization cosponsored the Lamont Doherty Earth Observatory Summer Intern Program at Columbia University for the second consecutive year.
The goal of the Columbia University Diversity Internship is to "expose minority students to careers in scientific ocean drilling by providing them with a 10–12 week educational and career building experience." Current interns work with mentors on research projects using scientific ocean drilling data.
While working on the project, titled "Which Marine Fossil Assemblages Best Match Ice Core Assemblages," Porter used samples from sites with sediments of Eocene age that are rich in diatom and compared them to the diatom assemblage in the GISP2 ice core that was collected in Greenland in order to determine the likely source of diatoms in the ice core.
Porter's advisor is Suzanne O'Connell, professor of earth and environmental sciences.
Posted in Alumni News on Nov. 8, 2013 by Cynthia Rockwell
Matt  Lichtash '13 was co-author of an op-ed published in U.S. News and World Report titled "Five Steps America Must Take Now to Combat Climate Change."
Lichtash is working with Evan Weber '13 and Michael Dorsey, who served as visiting scholar for Wesleyan's College of the Environment for the 2012–13 academic year. The three, concerned that the United States adopt an effective national energy strategy, have developed "The Plan," which they propose can "set our nation on a promising path towards ensuring a safer, more prosperous, and more just future for ourselves and our posterity." The Plan is available for download at http://www.usclimateplan.org/
In the op-ed, Lichtash insists that the U.S. "must propose a bolder plan to position the world to hold a temperature increase below 2 degrees Celsius, the widely agreed 'safe-zone' that prevents climate catastrophe."
Lichtash and co-author Michael Shank offer "five market-based solutions," starting with a greenhouse gas fee and finally urging the country to "scrap fossil fuel subsidies."
Weber majored in economics and environmental studies; his thesis focused on the social justice implications of U.S. climate policy. Lichtash, who also majored in economics and environmental studies, uses data analysis to explore the quantitative side of sustainability and energy policy,. Dorsey, now an assistant professor in Dartmouth College's Faculty of Science in the Environmental Studies Program, as well as director of Dartmouth's Climate Justice Research Project. The three hope to foster national dialog on both challenges of and solutions for national climate change. They further explain their vision in this video.
Learn more about them in this WesConnect feature.
Posted in Achievements on Oct. 2, 2013 by Olivia Drake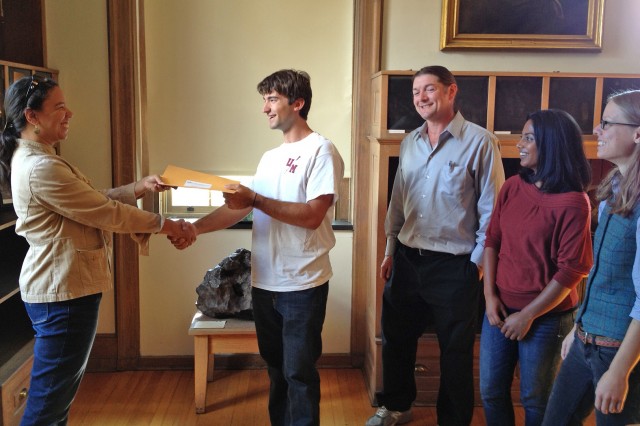 By examining highly-detailed satellite images, researchers can spot small channels formed on the sides of craters on Mars. These channels may be evidence of flowing water on Mars.
Since scientists don't exactly know what the surface of Mars is composed of, Wesleyan student Peter Martin '14 created a modeling program that can simulate the kinds of salty water, or brine, solutions that would possibly form on Mars. For his efforts, Martin was awarded the Thomas R. McGetchin Memorial Scholarship Award. The $1,500 prize is given annually by the Universities Space Research Association in honor of the former Lunar and Planetary Institute Director, and is among five scholarship awards presented by the USRA.
Martin, who was selected from 21 applicants, is completing his Martian brine research in the planetary lab of Martha Gilmore, chair and associate professor of earth and environmental sciences.
After developing a modeling program, Martin created actual brines in the lab, and let them evaporate. The salts left behind formed various minerals including sylvite and halite. Martin uses X-ray diffraction (XRD) and visible/near-infrared spectroscopy (VNIR) to analyze the resulting evaporites. Analyses are ongoing, and Martin hopes to identify more minerals.
"The brines tell us a lot about Mars' surface composition, mineralogy, and even hydrology," he said.
After graduating, Martin plans to study planetary science education in graduate school.
For more information on the scholarship, see this link.
Posted in Snapshots on May. 13, 2013 by Olivia Drake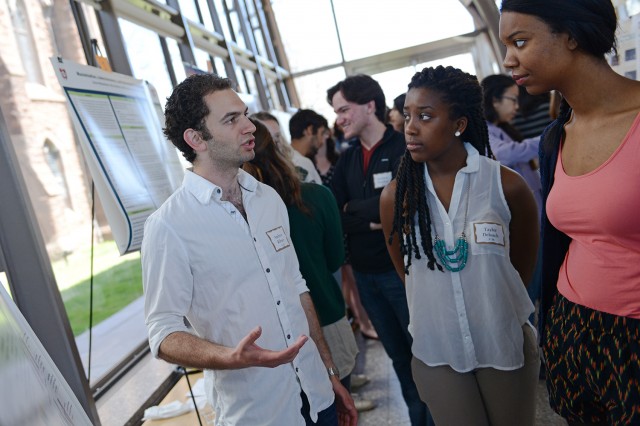 At left, Andrew Ribner '14 and in center, Taylor Deloach '13, presented their study titled "Navigation in Children: The Effect of Asymmetry on Reorientation" during the Psychology Department's Research Poster Session April 25. About 55 BA students, thesis students, BA/MA thesis students and research associates from the Psychology and Neuroscience and Behavior Departments presented posters.
Posted in Snapshots on Apr. 22, 2013 by Olivia Drake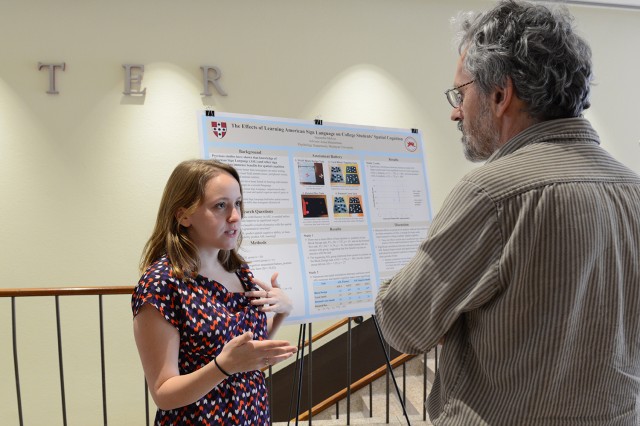 Samantha Melvin '13 presented her research on "The Effects of Learning American Sign Language on College Students' Spatial Cognition" during the Celebration of Science Theses April 19 in Exley Science Center. Honors and MA students majoring in the Natural Sciences and Mathematics Division made poster presentations. Melvin's advisor is Anna Shusterman, assistant professor of psychology. More than 35 students made presentations.
Physics student finalist for Biruni Graduate Student Research Award
Physics Ph.D. graduate student, Hamidreza (Hamid) Ramezani, participated in the 2013 Biruni Graduate Student Research Award (GSRA) competition.  The award  promotes and recognizes outstanding research by a physics graduate student of Iranian heritage who is currently studying in one of the institutions of higher education in USA. For specifics see:
http://www.irapnetwork.org/Biruni-2013-Graduate-Student-Research-Award.php Hamid was the third finalist and together with the winner and the runner-up will be acknowledged in a ceremony at the American Physical Society March meeting.  Hamid is doing his graduate work with Tsampikos Kottos in the Physics department and expects to receive his Ph.D. in June 2013.
Oct. 22, 2012 by Olivia Drake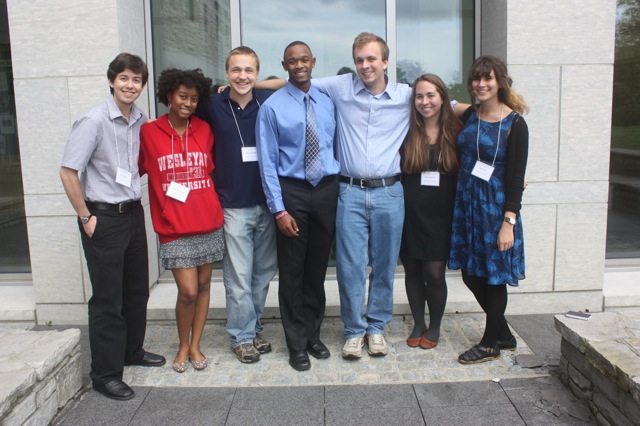 Seven Wesleyan undergraduates spoke during the annual Keck Northeast Astronomy Consortium meeting. They presented the results from their summer research projects.
Seven Wesleyan undergraduates presented research at the annual Keck Northeast Astronomy Consortium meeting held at Middlebury College on Sept. 22.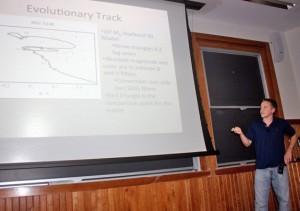 Astronomy major Mark Popinchalk '13 presents his research.
Pictured above, from left, are: Eric Edelman '13, astronomy major, who worked with Professor Jay Pasachoff at Williams College; Miche Aaron '14, earth and environmental studies major, who worked with Associate Professor Martha Gilmore of Wesleyan;  Mark Popinchalk '13, astronomy major, who worked with Professor Debra Elmegreen of Vassar College; James Dottin '13, earth and environmental studies major, who worked with Research Associate Professor James Greenwood of Wesleyan; Ben Tweed '13, astronomy major, who worked with Assistant Professor Seth Redfield of Wesleyan; Kerry Klemmer '13, astronomy major,  who worked with Professor Kim McLeod of Wellesley College; Lily Zucker '14, astronomy major, who worked with Professor Tom Balonek of Colgate.
In addition to presenting research talks, the students also wrote research papers that have been published in the 2012 Proceedings of the Undergraduate Research Symposium of the Keck Northeast Astronomy Consortium. KNAC is sponsored by a National Science Foundation/Research Experiences for Undergraduates grant at Wesleyan.
Research conducted last spring by Audrey Haynes '12 has shown that many residents in Costa Rica have levels of mercury in their hair that far exceeds those recommended by the U.S. Environmental Protection Agency. Haynes and her advisor, Professor Johan Varekamp, investigate why. Read more…