Posted in News on June 6, 2014 by Lauren Rubenstein
Roy Kilgard, support astronomer and research assistant professor of astronomy, together with Trevor Dorn-Wallenstein '15 and Tyler Desjardins MA '11, recently presented a stunning new picture of the Whirlpool Galaxy, also known as M51 or NGC 5194. According to NBC News'coverage, the picture from NASA's Chandra X-ray observatory "combines data from more than 232 hours worth of Chandra's observations, gathered over the course of 12 years, and highlights hundreds of previously undetected X-ray sources."
Kilgard tells Universe Today, "This is the deepest, high-resolution exposure of the full disk of any spiral galaxy that's ever been taken in the X-ray." The image appears to show evidence that the Whirlpool Galaxy is in the process of colliding with a smaller companion galaxy, which would trigger waves of rapid star formation.
"In this image, there's a very strong correlation between the fuzzy purple stuff, which is hot gas in the X-ray, and the fuzzy red stuff, which is hydrogen gas in the optical," said Kilgard. "Both of these are tracing the star formation very actively. You can see it really enhanced in the northern arm that approaches the companion galaxy."
Read more coverage on Space.
K.D. Kuntz of Johns Hopkins University was also a co-author.
Posted in Achievements on Oct. 23, 2013 by Olivia Drake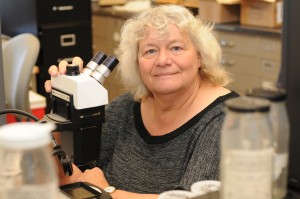 Ellen Thomas, research professor of earth and environmental sciences, was named the winner of the 2013 Association for Women Geoscientists Professional Excellence Award in the Academia category. This award recognizes exceptional women who have made distinguished contributions in their professions throughout their careers.
"The Award Committee was especially impressed with the breadth and depth of your professional accomplishments, your commitment to mentoring, and the emphasis you have placed on outreach and other service activities during your career," wrote Aimee Scheffer, president of the AWG in Thomas' award letter. "Congratulations and thank you for being a positive role model to current and future generations of women geoscientists."
Posted in Achievements on Oct. 2, 2013 by Olivia Drake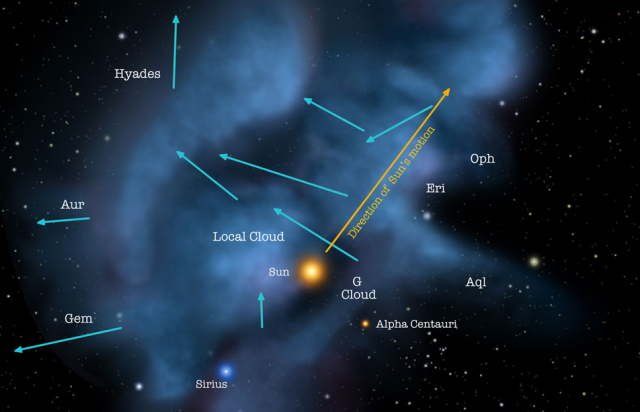 On Sept. 24, NASA's Astronomy Picture of the Day featured a figure that Assistant Professor of Astronomy Seth Redfield generated as part of his research on the interstellar medium, the gas and dust surrounding the Sun and other nearby stars. Each day, NASA features a different image or photograph of the universe, along with a brief explanation written by a professional astronomer.
The explanation of the figure states: "The stars are not alone. In the disk of our Milky Way Galaxy about 10 percent of visible matter is in the form of gas, called the interstellar medium (ISM). The ISM is not uniform, and shows patchiness even near our Sun. It can be quite difficult to detect the local ISM because it is so tenuous and emits so little light. This mostly hydrogen gas, however, absorbs some very specific colors that can be detected in the light of the nearest stars.
A working map of the local ISM within 20 light-years, based on ongoing observations and recent particle detections from the Earth-orbiting Interstellar Boundary Explorer satellite (IBEX), is shown above. These observations indicate that our Sun is moving through a Local Interstellar Cloud as this cloud flows outwards from the Scorpius-Centaurus Association star forming region.
Our Sun may exit the Local Cloud, also called the Local Fluff, during the next 10,000 years. Much remains unknown about the local ISM, including details of its distribution, its origin, and how it affects the Sun and the Earth. Unexpectedly, recent IBEX spacecraft measurements indicate that the direction from which neutral interstellar particles flow through our Solar System is changing."
Posted in People on May. 26, 2013 by Olivia Drake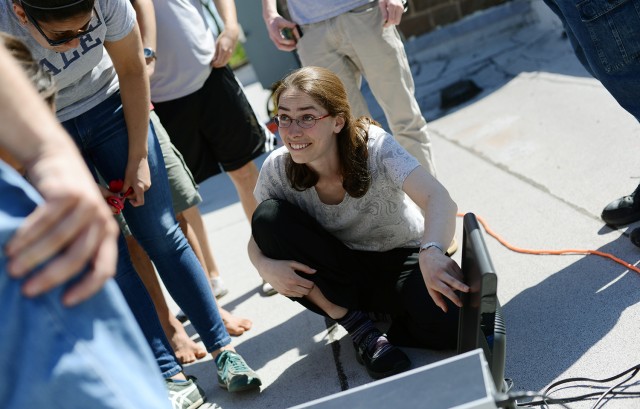 Meredith Hughes, assistant professor of astronomy, works with students on a small radio telescope, located on the roof of the Van Vleck Observatory.
(Contributed by Jim Smith)
Meredith Hughes was one of those kids drawn to science and nature. But growing up in small-town Rhode Island, she didn't know any scientists.
"The people I knew who liked science were teachers and doctors," recalled Hughes, a new assistant professor of astronomy at Wesleyan this year. "So I figured that's probably what I'd be."
Then, during her junior year of high school, a patient of her mother, a women's health nurse practitioner, recommended a program for budding scientists called The Summer Science Program (SSP). Hughes applied, and became one of 25 students from around the world to spend the summer under the pristine skies of Ojai, California. "We spent the summer determining the orbit of 4 Vesta, the second largest object in the Asteroid Belt," she said. "It was my first exposure to professional scientists and real research, and by the time the summer was over I had begun to think that maybe a career in science wasn't such a crazy idea."
Little more than a year later, she was enrolled at Yale. Despite the inroads into astrophysics she had made at SSP, she embraced the philosophy of a liberal arts education and spent her freshman year avoiding astronomy and instead exploring fields as diverse as cognitive science and music theory. During the summer  she had an opportunity to stay in New Haven and do astronomical research with Professor Meg Urry, director of the Yale Center for Astronomy and Astrophysics. Hughes found it exhilarating to apply the physics she had learned in the classroom to investigating the properties of the supermassive black holes at the centers of distant galaxies.
"After that summer, I was hooked," she said. She went on to complete A.M.  and Ph.D. degrees in astronomy at Harvard in 2007 and 2010, earning the department's Fireman Fellowship for an outstanding Ph.D. thesis in the field of experimental astrophysics.
After Harvard, she accepted a postdoctoral fellowship with the Miller Institute at the University of California-Berkeley. Former Miller Fellows have included Nobel laureates and Fields medalists, but Hughes says she was most excited to follow in the footsteps of former Miller Fellow Carl Sagan. "His career was exemplary in combining a deep understanding of research with an incredible gift at communicating his knowledge and passion to non-scientists, which is a combination I strive to emulate," Hughes said. She was at Berkeley when she learned about the opening at Wesleyan that offered what she said was "exactly the balance of teaching and research I was looking for." (more…)
Mar. 11, 2013 by Lauren Rubenstein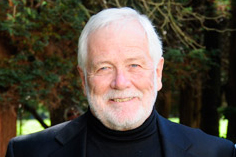 David Beveridge
University Professor of Natural Science and Mathematics David Beveridge was one of 33 leading experts in science, engineering and technology recently elected to membership in the Connecticut Academy of Science and Engineering. The new members will be introduced at the Academy's 38th annual meeting and dinner on May 22 at Quinnipiac University in Hamden, Conn.
According to the Academy, election is "on the basis of scientific and engineering distinction achieved through significant contributions in theory or applications, as demonstrated by original published books and papers, patents, the pioneering of new and developing fields and innovative products, outstanding leadership of nationally recognized technical teams, and external professional awards in recognition of scientific and engineering excellence."
Beveridge is in the Chemistry Department and Molecular Biophysics Program. He has taught at Wesleyan since 1986, and served as Dean of Natural Sciences and Mathematics from 1992-1999. He has authored or co-authored more than 200 scientific papers. His research interests include theoretical physical chemistry and molecular biophysics, structural biology and bioinformatics, quantum mechanics, statistical thermodynamics, molecular dynamics and Monte Carlo computer simulation, and the role of water in structural biochemistry.
Stew Novick featured in Physical Chemistry textbook
Stew Novick, Professor of Chemistry, was recently highlighted in a new Physical Chemistry Textbook, Quantum Chemistry and Molecular Interactions by Andrew Cooksy of San Diego State University, Pearson (2014). The post highlights Novick's ongoing research and characterization of weakly-bonded complexes using their time-dependent Fourier Transform Microwave spectrometer, which generates a frequency-dependent rotational spectrum.  Click on the picture to see it in higher resolution.
Carol Wood and Wis Comfort named AMS Fellows
Carol Wood and Wis Comfort, emeritus, both of the Department of Mathematics and Computer Science, have been named to the inaugural class of American Mathematical Society Fellows. AMS is the professional research society in mathematics, and has instituted the Fellows program this year in an effort to recognize excellence. For more information about the program and the fellows, visit http://www.ams.org/profession/fellows-list.
Joe Knee recognized by Journal of Chemical Physics
Professor Joe Knee of the Chemistry Department along with his former graduate student, Dr. Quanli Gu, have been recognized by the Journal of Chemical Physics for two recent communications related to gas phase hydrogen bonding studies in carboxylic acid clusters.  The work involved spectroscopic studies of 9-hydroxy-9 fluorene carboxylic acid (9-HFCA) bound to water and a number of smaller carboxylic acid binding partners.
The first publication on this work, published in May, accurately measured the binding energy of 9HFCA to water with an accuracy of better than 0.1 kcal/mole.   This paper was recognized by the Journal as the sixth most read (downloaded) paper in the month of May.
A subsequent paper focused on the interaction of multiple hydrogen bonds within clusters of 9-HFCA with a series of smaller acid binding partners.  In 9-HFCA the 9-hydroxy is internally H-bound to the carbonyl oxygen.  When dimers of 9-HFCA are formed, through two additional intermolecular H-bonds, the strength of the internal 9-hydroxy bond is changed. 
This change was monitored via IR spectroscopy and was found to report very accurately on the nature of the intermolecular bonds.  Extensive quantum chemical calculations were performed to model these effects and a correlation was observed between the measured 9-OH frequency and the calculated Natural Bond Orbital (NBO) s* population.  Calculations were also performed on a number of model systems including the much simpler, but related, glycolic acid.
This work was published in September also as a communication in the Journal of Chemical Physics.  Professor Knee was recently notified that this paper was the 4th most downloaded publication in the journal for the month.  The interest in these publications reflects the significant recent activity in gas phase studies of hydrogen bonding interactions.  This includes numerous publications on the spectroscopy of nucleic acid and peptide clusters in the gas phase which are attempting to unravel the fundamental interactions also present in condensed phase biomolecules.
Dr. Quanli Gu has since gone on to a permanent position at the RJReynolds Company studying photoionization of small molecules.   Professor Knee's group is continuing related studies of hydrogen bonding in clusters.
Oct. 22, 2012 by Olivia Drake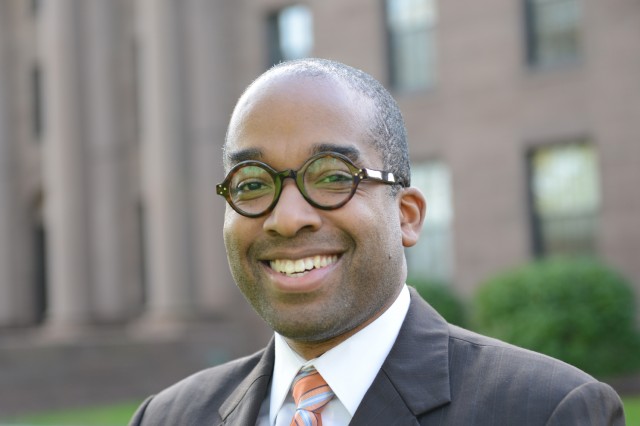 Michael Dorsey, visiting professor of environmental studies, says the College of Environment's Think Tank is "a novel, innovative space for learning."
In this issue of The Wesleyan Connection, we ask "5 Questions" of Michael Dorsey, visiting professor of environmental studies. In September, he was reappointed to the Environmental Protection Agency's National Advisory Committee.
Q: Professor Dorsey, you're a visiting professor of environmental studies and a fellow in the College of the Environment's Think Tank. What is the 2012-13 Think Tank theme, and what is your role in the year-long exploration?
A: The 2012-2013 College of the Environment's Think Tank theme is: environmental justice and global health.
Despite growing awareness of the problems of environmental injustice and related impacts on health and sustainability, many communities here in the U.S. and around the globe remain vulnerable or are being put at risk in new ways. This year's COE Think Tank will use our collective interdisciplinary strengths and practical experience to seek to tackle these complex issues. Using complementary, yet distinct, disciplinary approaches to examine the connection between environmental justice and global health, we will explore the health and livelihood implications of environmental injustice from local to global scales –from neighborhood struggles for food justice to regional responses to mountaintop removal in Appalachia and environmental activism in East Asia to the plight of island communities facing unfolding global climate disruption.
Q: Why did you want to be part of the Think Tank, and what do you hope will be accomplished?
A: The College of Environment's Think Tank is a novel, innovative space for learning; it is a unique space for environmental autodidactical fellowship. Individual learning blossoms as a result of camaraderie and collegial labor—of both peer faculty and dynamic student fellows. The admixture of the Think Tank, making student and faculty "peer fellows," is rare and was particularly attractive. An additional draw was the Think Tank and the College of Environment's founding "belief in the resilience of the human spirit and a desire to develop a long-term vision of human and ecosystem health."
Q: How do you describe your academic interests? Do you focus on environmental governance?
A: My research seeks to understand how theories underscoring political ecology, political economy, and institutional and organizational behavior explain and inform myriad efforts to manage the environment and shape sustainable development. Using these theoretical frameworks, I examine policies relating to the manipulation, control, and exploitation of ecological resources, as well as discourses and practices of sustainability and sustainable development. I am particularly committed to furthering analyses of the multitude of ways in which (in)justice and (in)equity (re)frame and shape environmental discourses, policies, institutions and practices.
Hence I do work on environmental governance problems. Specifically, I examine how environmental and sustainable development governance policies shape the management of biodiversity and climate.
At the broadest levels, my research into efforts to manage the climate system and biodiversity provide a framework for reconceptualizing and reconsidering market-based environmental management and approaches to sustainability over the longer term.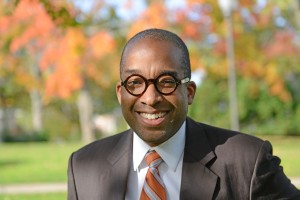 Michael Dorsey examines how environmental and sustainable development governance policies shape the management of biodiversity and climate. (Photos by Olivia Drake)
Q: You've written several articles. What are some of the topics?
A: In one of my earlier publications in the 2003 SUNY Press book Contested Nature: Power, Protected Areas and the Dispossessed–Promoting International Biodiversity Conservation with Social Justice in the 21st Century, I argue that: "In a vacuum of international standards and norms, where practical and credible regulatory, monitoring and enforcement mechanisms are non-existent, the theft of local knowledge and the adverse consequences for conservation will only accelerate in the years ahead."
In a series of articles, the most recent in the Australian Journal of Political Economy, I have been considering how and why particular institutions like transnational corporations, non-governmental organizations, multilateral agencies, inter alia, propose to manage atmospheric compounds like carbon dioxide and other greenhouse gases (GHGs) at local to global scales, explicitly using and promoting neoliberal market techniques. Just this year Australia and the European Commission announced they will seek to link their two carbon trading schemes.
Q: In July 2010, Lisa Jackson, the U.S. Environmental Protection Agency (US-EPA) Administrator, appointed you to the EPA's National Advisory Committee, and you were reappointed in September. What topics do you advise on?
A: As a member of the national advisory committee, I advise Administrator Jackson and her senior staff on specific U.S. government policy issues related to the implementation of the North American Agreement on Environmental Cooperation—which is part of the North American Free Trade Agreement. The Committee is responsible for providing recommendations to help assure that business and industry, academia, and non-governmental organizations are represented in the development of U.S. policy positions regarding implementation of the Environmental Supplemental Agreements to the North American Free Trade Agreement.
Tags: 5 Questions, COE, Dorsey
Posted in Campus News
Juhasz's Study Ties Word Processing Speed to Sensory Experience
Sep. 26, 2012 by Lauren Rubenstein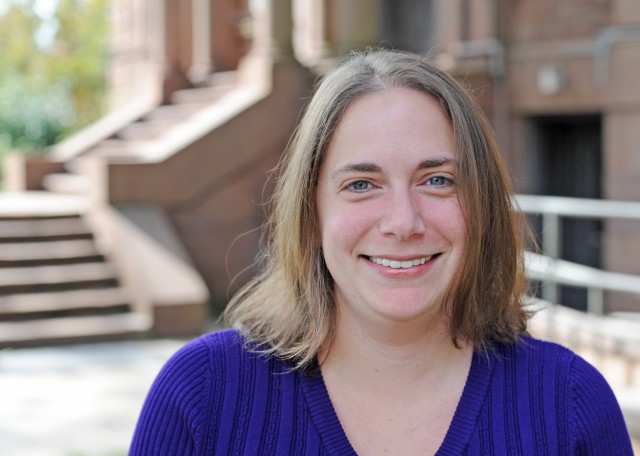 Assistant Professor Barbara Juhasz is interested in understanding how words produce a certain sensory experience when read.
Read the following words in your head:
Incense
Lemon
Kick
Though it may be happening on a subconscious level, all these words share an important feature: They all evoke a sensation or perceptual experience in the mind of the reader. Incense brings to mind a particular scent; lemon, a tart taste in the mouth; and kick activates a part of the brain responsible for motor behavior. Research suggests that these mental reactions occur very quickly—within fractions of a second—after reading a word.
In the Eye Movement and Reading Lab at Wesleyan, Barbara Juhasz, assistant professor of psychology, assistant professor of neuroscience and behavior, studies how readers recognize, understand and catalogue words in their mental dictionaries. Since 2006, when she first arrived at Wesleyan, Juhasz has been interested in understanding how words produce a certain sensory experience when read. She created an index, called the sensory experience rating (SER) scale, to describe the extent to which a word evokes a sensory and/or perceptual experience in the mind of a reader. The SER scale runs from 1 to 7 — with 1 indicating no sensory experience, and 7 referring to a high sensory experience evoked by a word—and can be applied to nouns, verbs, adjectives and adverbs alike.
Juhasz says she was moved to investigate the sensory experience associated with words while working with a student, Sarah Taylor '07. Taylor was interested in synesthesia, a condition in which one sense is perceived in conjunction with another sense. The most common form of synesthesia is associating letters or numbers with a particular color (for example, visualizing the number 4 as being printed in the color purple). Juhasz and Taylor's discussions on synesthesia led them to consider how people might associate different sensations with words, in general.
Juhasz also wondered how the sensory experience rating of a word related to the speed at which a reader processes that word. Through past research, Juhasz and others in her field have identified certain characteristics that correlate with the speed at which readers process words. For example, adult readers tend to process words acquired earlier in life more quickly—even after controlling for how frequently they've read the word over the years. Words that easily create a mental image are also processed more quickly.
Juhasz and collaborators conducted a large study on nearly 3,000 monosyllabic words. Participants in the study were asked to rate the words on the 1-7 SER scale. Lexical decision reaction times, or the time it takes to decide whether a word is real or not were then examined for these words. The study found that a word's SER rating predicted lexical decision reaction times after 23 other variables known to affect reaction times were considered. In other words, the readers recognized a word like lemon, which produced a strong physical reaction, more quickly than a word like box, which has little sensory response associated with it. Juhasz published these results in 2011 in the Quarterly Journal of Experimental Psychology.
More recently, Juhasz and colleague Melvin Yap from the University of Singapore conducted a new study, extending the investigation to 3,000 new words, this time with two syllables. According to a this new study, published online on August 31 in The Psychonomic Society's Behavior Research Methods journal, "…multisyllabic words vastly outnumber monosyllabic ones in the English language, and processing multisyllabic words implicates additional processes such as syllabification and stress assignment." The words they chose for the study had also been recently rated for "imageability" and "age of acquisition."
This most recent study confirmed that a word's SER rating is useful in predicting lexical decision reaction times. By making these ratings available to the psycholinguistic community in the new paper, Juhasz says she hopes researchers will use brain imaging and Evoked Response Potential tests, using EEGs, to see what happens in the brain of a reader when processing high sensory words.
Juhasz also hopes to conduct additional research examining how SER affects reading and word recognition performance.
She notes, "There is a correlation between SER and the age at which a word is acquired. Words that are acquired earlier in childhood have a strong link to sensory/perceptual systems. An interesting question for further research is whether stressing the sensory/perceptual aspects of a word during vocabulary instruction in school will result in faster processing of the word later in adulthood."
Naegele, Grabel Lauded for Stem Cell Research Contributions
Sep. 26, 2012 by Lauren Rubenstein
Janice Naegele, professor of biology, professor of neuroscience and behavior, and Laura Grabel, the Lauren B. Dachs Professor of Science and Society, professor of biology, were recently honored in Hartford Magazine's "Amazing Women" issue. Two of only 13 women selected this year for recognition, Naegele and Grabel were lauded for their contributions to the field of stem cell research.
The magazine's profile of Naegele states: "The research conducted by Janice Naegele, who is professor of biology and neuroscience and behavior at Wesleyan University, is opening up new possibilities for treating epilepsy through stem cell therapy. Her work focuses on temporal lobe epilepsy, which often cannot be treated with anti-seizure medications."
Grabel, the magazine notes, is a "leading stem cell researcher" who "has worked with embryonic stem cells for more than 20 years and has received grants from the National Institutes of Health and the Connecticut Stem Cell Research Fund, among others. As an advocate for human stem cell research, she has appeared before a subcommittee of the Connecticut General Assembly and has co-edited a book on biological ethics."